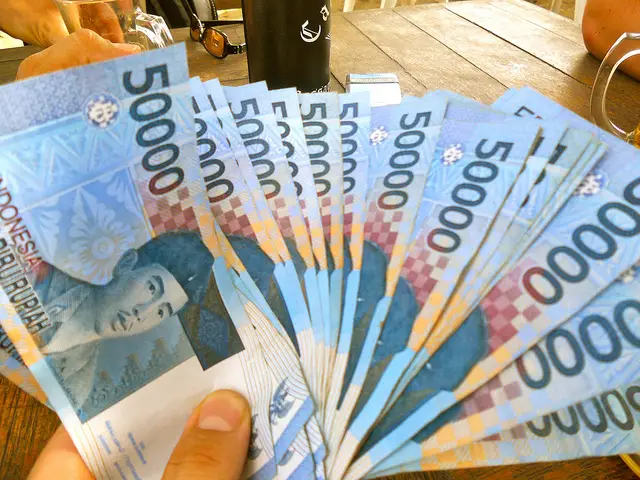 What are the best currency tips in Indonesia ?
The national currency is the Indonesian rupee or rupiah (Rps), which official ISO code is IDR.
Currency Exchange in Indonesia
All currencies are changed in touristic areas. No need to go to the bank. In currency exchange retail aka money changers, the exchange rate is always displayed on a sign outside. Compare them, because we sometimes see deviations of more than 10%.
Some people practice attractive rates, but require a large percentage of commission (without specifying it beforehand). Prefer currency exchange that do not take commissions. It is much easier to calculate.
 If possible, avoid exchanging during weekends and holidays, the rate is less attractive.
US dollars and euros are accepted everywhere. Just be aware that dollars before 2003 are not accepted (check that your dollars have a blue stripe on the front).
Compare online money transfer and save money !
Our comparison tool will help you choose the best money transfer firm to save money on international money transfers and money wires. Try it Now !
Be careful as they are many scams while exchanging currencies in Indonesia. Avoid shady currency exchanges at all cost.
Credit cards in Indonesia
Withdraw money with a credit card is easy. There are many ATMs in touristic areas. A fee is charged on each withdrawal.
Depending on the banks, the withdrawal ceiling varies between 1,250,000 and 2,500,000 Rps.
In Indonesia, the cost of living is particularly low for someone from the West. Eating usually only costs a few hundred rupees. Even the restaurants of the big hotels are quite affordable. For example :
A bottle of 1 liter of water costs about 5000 rupees (0,30 USD) A full meal in a local restaurant for one person (dish + water), comes to about 60,000 rupees (3,50 USD - very cheap), and around 250,000 rp (15 USD) in a more posh establishment Renting a scooter can cost around 50 000 rp a day (3 USD)
Taxes and tips
The departure tax of the country is 150 000 rp (9 USD) (may vary according to the airports) and is paid in cash at the international airport on the day of departure. There is also a tax for domestic flights which ranges between 10 000 and 50 000 rp (0,60 € to 3 USD).
In restaurants, the use is to leave a tip (about 10% of the addition, at least 5000 rp - 0,30 USD). If you rent a car with a chauffeur for the day, you can leave a tip of approximately 10,000 rp (0,60 USD) at the end of the day, and for a guide you can give 20,000 Rp (1,20 USD) .
Tags :
currency exchange
indonesia
Photo credits : JasonParis